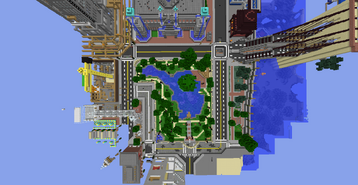 Ore Park is a public park located at the center of Genesis Island, Ore City. It is the largest manmade park in all of Ore City and is one of two parks in Genesis Island. 
Geography
Edit
Ore Park is situated at the center of Genesis right in the middle amidst all of the urban buildings. East of the park is the City Hall and overlooking the park north is Metro City mall while north east of the park is Ore Tower. The park has an entrance at all four cardinal directions with its main entrance at the west side. Ore Park borders Hydrogen Road and Mineral Way. Adjacent to the park is an extension of Ore Park, while technically still part of Ore Park, it is called Seaside Park instead. 
Ore Park is home to numerous kinds of flora and fauna, indigenous natively to Ore Region. Numerous kinds of trees grow here such as Oak, Birch, and Jungle. Although the Jungle species was imported from Coastal Rainforest, Coastal Cove. Roses and sunflowers also bloom throughout the park during the spring season. Chickens and other animals like sheep and cows also live in the park.
Ore Park was made to be a recreational location for the citizens of Ore City. The park itself has many features and things to do. 
Lazuli Lake
Edit
Lazuli Lake is the body of water located at the center of Ore Park. The lake itself does not have a uniform shape having a mostly iregular body. The lake hosts a few activities. 
The lake is large enough to accommodate boating activities. At the west is a small dock where people can rent and purchase boats for use in the lake. 
Along the perimeter of the lake is a sand walkway that can be used for jogging. 
Lazuli Island
Edit
Lazuli Island is a small island at the east of Lazuli Lake. A tourist attraction, the observatory provides a view of the city 360 degrees all around.