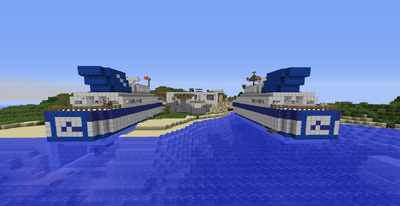 The Ore Ferry Terminal is a newly constructed ferry terminal for use for the public. It is the only means of transport by sea to Ore City apart from the Carbon Docks. The terminal itself is located outside of Ore City boundaries and is situated at the edge of Ore County at the coastline of Azul Sea. 
The terminal is located at the end of Xenotime Express Highway at the coast of Azul Sea. Currently, getting to the terminal is only accessible by road but a planned rapid rail system is set to be constructed as part of the Green Line of the Ore City Subway.
Operation
Edit
Azure Ferries operates at the terminal year round with trips to Coastal Cove, Agua Bendita, and Cyanotome. There are two bays each with a ferry docked for transport. The terminal itself is fairly small and fitted with a white architectural design with splashes of blue to give the effect of being on the ocean.