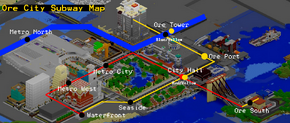 Ore City
features an extensive and intricate subway system which covers all of the city. The subway system has a total of three lines which services both boughroughs of the city. Which consists of the Red, Blue, Yellow lines respectively. 
The red line is the longest line with the most stops in the current Ore Subway layout. With a total of five stops located at major points in the city. The Red Line is the only line that is found at Mineral Island with a terminus station at Ore South and the only one that travels through Ore Bridge.
Waterfront
Metro West
Metro City
City Hall (Y)
Ore South
Blue Line
Edit
The blue line is the only overhead train in the city which consists of only three stops. It is the shortest of the three lines but with the longest distance between stops. 
Waterfront North
Metro North
Ore Tower (Y)
Yellow Line
Edit
The yellow line serves as a connection line for the subway system. It is the only line that intersects with other lines, with both lines. It runs underneath like the red line at the perimeter of Ore Park and it serves the south and east region of the city. The line connects with the Red line twice at two stations.
Waterfront (R)
Seaside Boulevard
City Hall (R)
Ore Port
Ore Tower (B)
Ore City Subway Expansion Project
Edit
The entire subway system is currently undergoing an expansion project with a goal of expanding the coverage and reach of the subway. With plans of extending the red line at Mineral Island and improving the stations refitted with new technology. A new stop for the blue line is also planned.