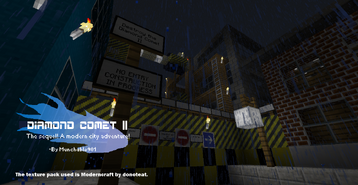 Diamond Comet II (firstly titled Destroy the Diamond Comet II) is an upcoming adventure map for Minecraft. The map is a sequel to Destroy the Diamond Comet and features an open city for the player to explore. No details about the story are released yet.
It is revealed in the official Diamond Comet thread that the map will take place in Ore City , a small city situated on an island. The player can navigate through the entirety of the city and explore it. As with it's predecessor, the plot is once again a diamond comet is coming to crash into earth and it's up to the player to destroy it. The city features various locations such as a mall, park, restaurants, and more.
Nothing has been released about gameplay yet.
Development
Edit
Abandoned.